'Arena of Valor' News: Play-Offs, Ranked Demotions, And More Pippi
It's been just over one week since the big Arena of Valor March update, and what did we learn? That things don't always go according to plan.
Players have put up with in-game lag and latency spikes since the game's launch well over 12 months now, but people are convinced it's now worse than ever. Whether you've come across a glaring issue or not, we're about to talk about one you should hope you never fall victim to.
Here's your 44th Arena of Valor weekly roundup. Cheer up, chums!
Valor Series Playoffs Start This Weekend!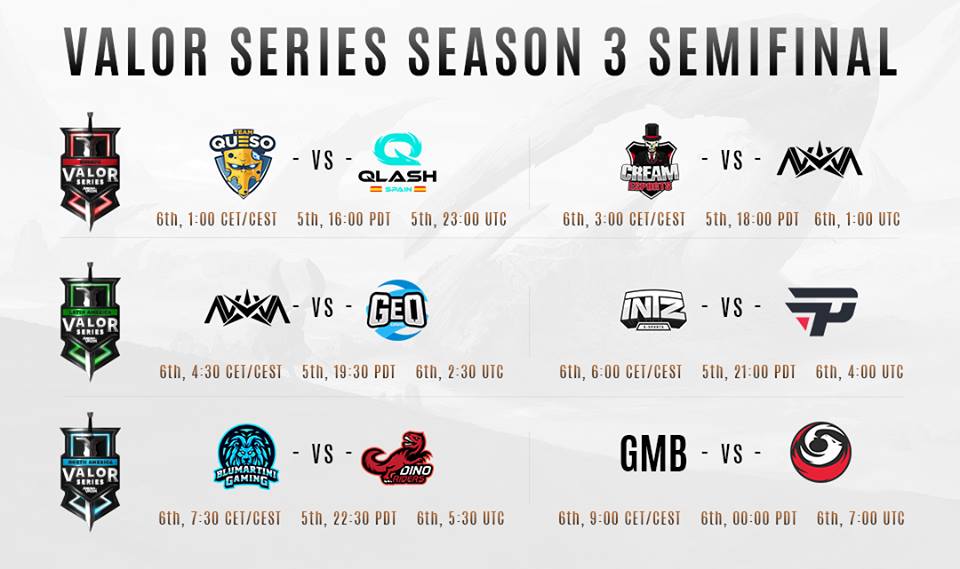 I haven't had much time to cover the last few weeks of Valor Series competition. If you're in the same boat, it's still worth knowing that everything changes this week with the Valor Series Play-offs.
After 8 weeks of grueling competition, it's finally been decided which teams will battle it out once more to prove they're up to the task of representing their region in the worldwide competitions to come.
Western teams have struggled to put up much of a fight against their eastern counterparts, but we're just happy to see teams continue to try.
Things kick off in a matter of hours, with Team Queso vs QLASH at 16:00 PDT. Team Queso have really made a name for themselves after last year's sudden concede by welcoming Lilou into the fold halfway through the competition. They're the ones to watch going forward, and having them open up this week's semi-final is a great reason to tune in – which you can do through Facebook yet again.
VODs from past weeks can now be viewed on YouTube, too. Nice!
This Isn't Your Average Capheny Cosplay
I don't want to undermine all the hard work Tabitha 'Artyfakes' Lyons has put into her Natalya outfit for the Valor Series finals, but I can't help but be blown away by this professionally produced Arena of Valor live-action… thing. We've seen a few little skits on the Western AOV YouTube channel before, but the quality of the stuff available overseas is on a whole other level.
Here we have what I can only assume is a lore teaser for Capheny, a character I'm only just now realizing I've been spelling wrong for weeks. It was posted on the Vietnamese Garena AOV YouTube channel on April 1st, but this is far from a joke. It takes a little while for Capheny to dispatch some enemies in close-quarters combat, but she eventually brings out the big guns – literally.
It's highly doubtful Arena of Valor would get a full-blown movie even with technically being one of the biggest games on the planet, but if this a taste of what can be done with the IP, don't be surprised to see this become a semi-regular thing. In fact, the special effects were handled by the very same studio behind the live-action Quillen ad aired during AWC, and the Cybercore Nakroth promo. They even helped Garena out with a couple of League of Legends projects, too.
March Update De-ranks Players
We are aware that many players are experiencing deranking in which you are being demoted to Bronze despite winning ranked games in higher levels. Please fill out the following information so that we can investigate the issue and find a solution. Thanks!https://t.co/yQisdfuKVb

— Arena of Valor (@ArenaofValor) April 2, 2019
If you thought the HD texture pack issues and random disconnects were the worst to come, you probably weren't prepared for ranked match demotions. That's right, judging from a notice put through the Arena of Valor social media channels, many players experienced the horror of losing their place in Ranked play.
The March update introduced placement matches to shorten the time spent climbing back to the same Ranked position you held last season. But rather than bringing players back up to speed, it was instead randomly demoting them all the way back down to Bronze after a win.
The AOV team put out a report form through Google Docs on April 2. A day later, and the team was apparently confident enough to say the issue would be resolved by April 12th and that affected players would have their ranks restored by then. While that may sound like it's worth holding off on Ranked matches until then, the fix should take wins into account when restoring your rank, so you should still be able to climb the ladder before the fix kicks in.
Pippi Release Date Teased?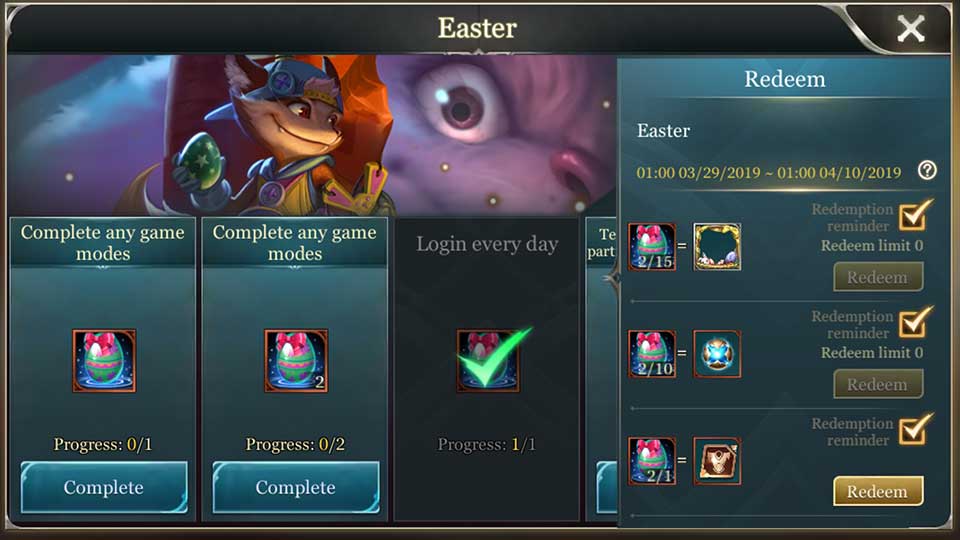 Faster than we ever would have expected, it looks like Pippi is already being teased for a Western release. We brought up the new support hero in the second roundup of last month, and the gremlin's menacing eyeball might have already been spotted during the current Easter event.
I personally glanced over it myself, but Reddit user Blankie_Blank pointed out that beneath the Easter Fennik skin featured on the event banner is a rather monstrous eye looking back at you. Most, including me, think it's a nod to Pippi, but what that might mean for the game isn't exactly set in stone.
Considering we're not aware of another hero releasing in the two weeks either side of Hayate and Capheny, it's possible Pippi could make a surprise appearance at the end of the Easter event. Of course, it's also possible Tencent's AOV staff simply took the Easter event assets from versions of the game already celebrating Pippi's release and didn't think of much of the implication of prematurely teasing a new character.
As ever, we'll just have to wait and see. I wouldn't have expected Pippi to be West-bound for months yet, but stranger things have happened.